Places will be very limited due to current regulations
So don't miss the opportunity to pass
a different, unique and memorable New Year's Eve tango
to the funniest Tango association ....
TangoAllegria ... a whole guarantee!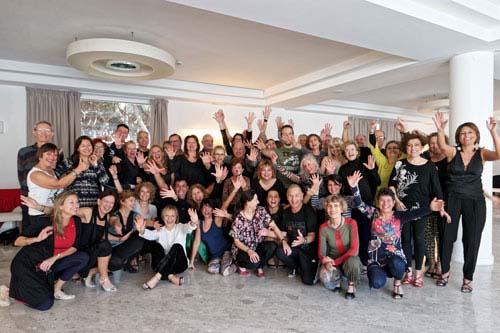 All the Tango together with great teachers
and many other surprises ....

Sergio Cortazzo (arg) e Silvia Carlino (it) Fernando Serrano (arg) e Silvia Colli (it)
Martin Trocozo (arg) e Anibal Castro (arg)

| | | |
| --- | --- | --- |
| | | |
Are you curious and want more information about our proposal?
To get the details here ⬇️ Clic Info

What we will do competently,
passion and dedication ...



All organized at best in an All Inclusive package
- Welcome and welcome drink
- Argentine Tango lessons and other didactic activities
- Afternoon and evening milongas
- Milonga Gran Galà of 31 December 2022
- Typical New Year's Toast
- Animation TangoAllegria Staff
- Milonga Matiné on January 1st, 2023
- SParty .... a surprise party !!!

What we will definitely not do ... :)

- Never get bored, because we are Tango and Joy !!!
- The typical dinner to spend 5 hours at the table with overeating, because we are dancers and therefore we celebrate by dancing on the dance floor,
Tango y much more!!!
- Places are limited and reserved for members by reservation by 11/30/2022
- so book now! There are no external entrances.

You will be in the enchantment of the mountain




wrapped in a magical harmony




capable of giving back




balance and serenity
NEW YEAR TANGO MEETING offers:
- Stay in an exclusive 4 **** hotel
- Welcome drink
- Half Board (Drinks Included)
- Awakening and Wellness with Yoga
- Lessons of Tango, Milonga and Vals
- Afternoon and Afternoon Milongas
- Live Music Evenings
- New Year's Eve party with Midnight toast
- Refreshment at one o'clock in the morning of the auspicious 2023
- Pizza & Sweets Tour of January 1, 2023
- Entrance to the Spa and Wellness Center of the Hotel
- Free indoor and outdoor parking
- Free high speed wifi
Get to know our Hotel - Grand Hotel Presolana
The Grand Hotel opens to the pine forest in the frame of the Orobic Alps in the different scenarios from Monte Pora to Monte della Presolana that stand out in the blue of the horizon between the white snow and the green pine forest, traits that to the eyes seem like unique paintings, miniatures of an uncontaminated immensity and an authentic nature
The wonderful SPA of the Grand Hotel Presolana is a true oasis of Salus Per Aquam, where you can enjoy a relaxing break that regenerates the mind and body. The warm embrace of the waters of the indoor pools is made even more pleasant by the suggestive view of the snow-capped mountains in a large and very comfortable environment. The ideal place to pamper yourself, relax and find yourself.
The large rooms of the Grand Hotel Presolana are divided into classic, comfort and junior suites.
The rooms are furnished in a classic or contemporary style, with wooden or carpeted floors.
Many have balconies with fantastic mountain views
The best rooms are assigned to whoever signs up first
The dance evenings will take place in the beautiful and large hotel ballroom with brand new parquet
The Grand Hotel Presolana offers


2 Restaurant Rooms


Free indoor and outdoor parking

Wellness Center of 1000 square meters

2 large indoor pools

Sauna and Turkish and Mediterranean bath

Relaxation room and with chromotherapy

Emotional showers and salt wall

Ice waterfall and water paradise

Cabins for treatments and massages

Games room and billiard room

Free high-speed Wi-Fi
How to reach us
By train: 🚊 Bergamo railway station. At the station there are bus connections with several daily trips to Castione della Presolana. It is also possible to book the hotel shuttle service from the Bergamo train station.
By bus: 🚌 Direct bus lines from Bergamo to Castione della Presolana leave from the train station, cost 6 euros each way. Info and timetables visit https://orariautobus.org
By plane: ✈️ Bergamo Orio Al Serio Airport and Milan Linate and Milan Malpensa airports.All airports are connected to Bergamo FS station by bus.
By car: 🚘 from the A4 motorway, Bergamo exit, follow the direction to Val Seriana, passing through Clusone to Castione della Presolana.
Distances from the nearest cities and airports:

From Bergamo: 50 km
From Milan: 90 km
From Bergamo Orio al Serio airport: 40 km
From Milan Linate airport: 97 km
From Milan Malpensa airport: 134 km

Altitudes

Castione: 880 meters above sea levelBratto / Dorga: 1036 meters above sea levelPresolana Pass: 1297 meters above sea levelMonte Pora: 1500-1879 meters above sea levelPizzo della Presolana: 2521 meters above sea level
write us to tango@tangoallegria.it

INFOLINE: +39 377.1745226 (Italian)

+39 333.5300844 (solo WhattsApp)
(Engligh-French-Spanish-Russian-Italian)
If you like the proposal click the blue "Share" button below to share the event on Facebook