TANGO ARGENTINO
Eventi e Vacanze Tango
TANGO HOLIDAYS TO BUENOS AIRES | Milonguera Guide
Know and Experience Buenos Aires as Tango Dancers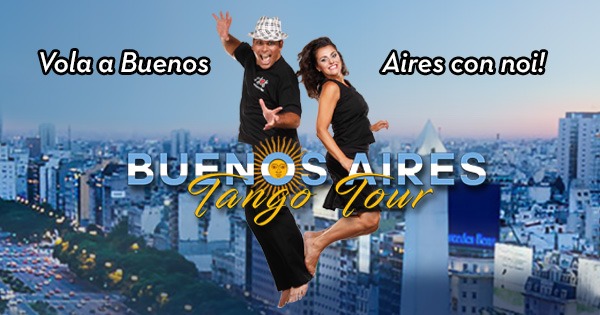 Buenos Aires, the city where Argentine Tango was born, declared an intangible heritage of humanity by UNESCO.
With the collaboration of Tours Service and Avila Viages, a leading tour operator in Argentina, we have been organizing Tango holidays for several years to discover the city of Buenos Aires and the Argentine Tango culture.
Do you like traveling, learning about new places, new cultures and at the same time cultivating your passion for dance and in particular for Tango?
That's why we highly recommend you to join a Tango trip in Buenos Aires. You will be joined by the expert milonguera guide of Fernando Serrano and Silvia Colli who will introduce you to the culture and places of Tango in Buenos Aires.
---
Experience and dance Tango worldwide
Discover the best milongas and favorite destinations for Tango fans, all over the world.



Viaggia in Argentina a Pasqua per conoscere la sua capitale BUENOS AIRES...
una metropoli che non dorme mai... facendoti trasportare dal ritmo struggente del TANGO!





30 March - 9 April 2023
EASTER TANGO IN BUENOS AIRES TANGO TOUR

Tango in Argentina, Fill up on Tango with a Holiday in the legendary Buenos Aires. Travel with us during Holy Week and Dance in the Global Mecca of Argentine Tango. In April, Tango is danced in Buenos Aires
Discover the Tango Allegria event closest to you.
Join our group and make new friends around the world.
Discover new passions organised by our Tango friends.